EN VIDEOINSTALLATION MED KAFFE OG OMSORG, 2010/11
……………..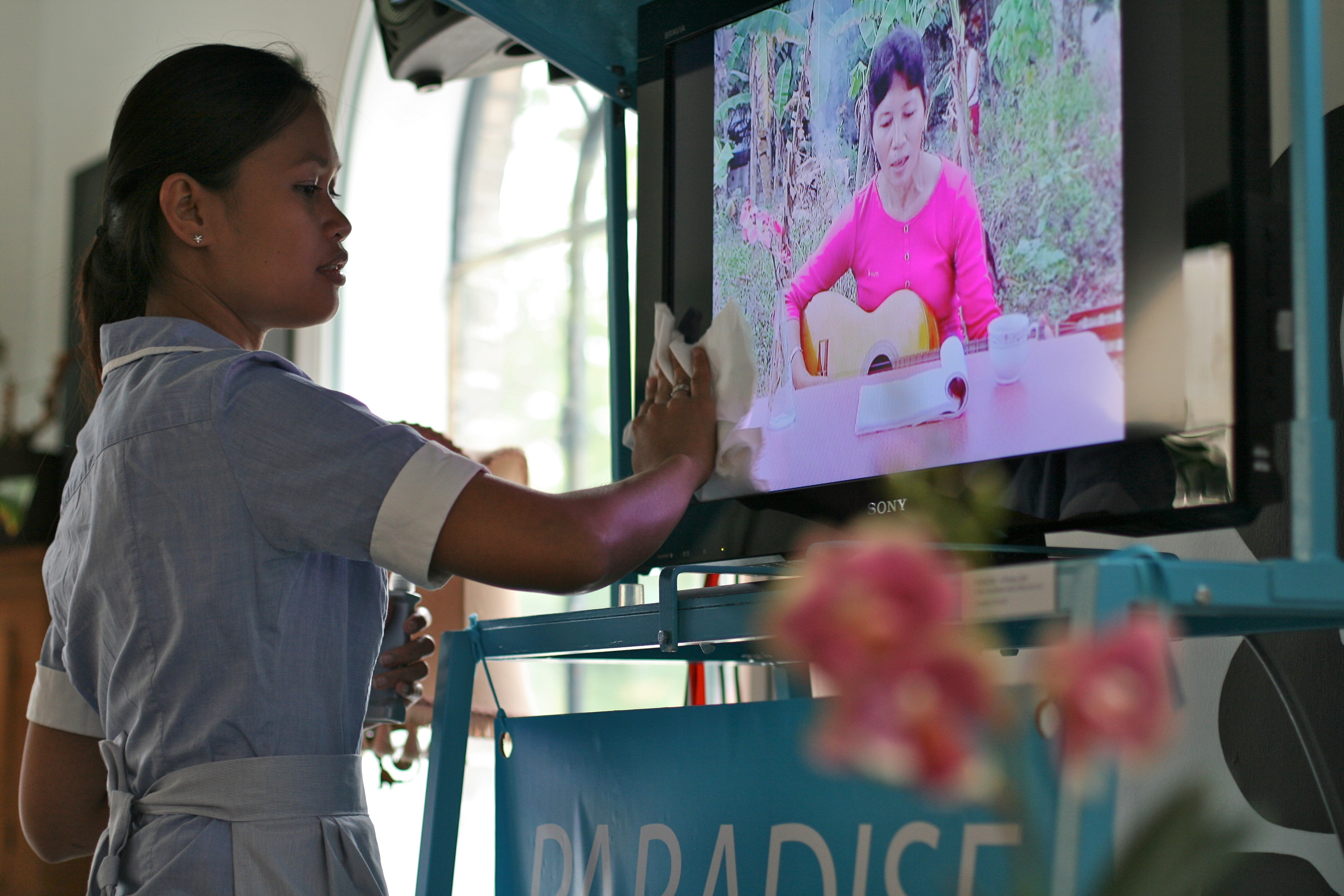 PARADISE – A PINOY CAFE
Indenfor de sidste ti år er tusinder af filippinske kvinder strømmet til Danmark for at arbejde som au pairs for danske familier. Danmark er naturligvis blot et lille hjørne af det eksploderende globale marked for kvindelige omsorgsarbejdere.
………………….


.…………….
PARADISE åbnede som del af festivalen My World Images i den udendørs café på Kunsthal Charlottenborg i 2010. I caféen blev gæsterne serviceret af unge filippinske kvinder, der tilbød dem skuldermassage, manicure eller en sang, alt imens filippinske mødre fortalte historier og sendte hilsner til deres oversøiske døtre gennem video breve på opstillede fladskærme. Gæsterne fik således mulighed for at opleve og reflektere over det som den amerikanske sociolog Arlie Hochschild har kaldt "care drain" – på dansk "omsorgsdræn". Installationen åbnede i cafeen på Kunsthal Charlottenborg, besøgte desuden to cafeer i Roskilde og indgik som del af udstillingen Mothering på Kunstraum Kreuzberg i Berlin 2011.
…………………………
—————————————————-
Medvirkende: Anita Amapoloquio, Chloe Inventor, Gabriella Bautista Høgh,
Katrina Palad, Mona Soliman, Rizza Baustista Klein                                                                        Iscenesættelse: Ditte Maria Bjerg
Rum: Filippa Berglund
Lyddesign: Tad Ermitano
Film collaborator in the Philippines: Khavn de la Cruz
Støttet af: FOA, CKU, My World images og Kbhs Kommunes Scenekunstudvalg
————————————————–
…………………………
……………….
……………….
……………….
……………….

—————————————————-