A PERFORMANCE LECTURE ON COMMERCIAL SURROGACY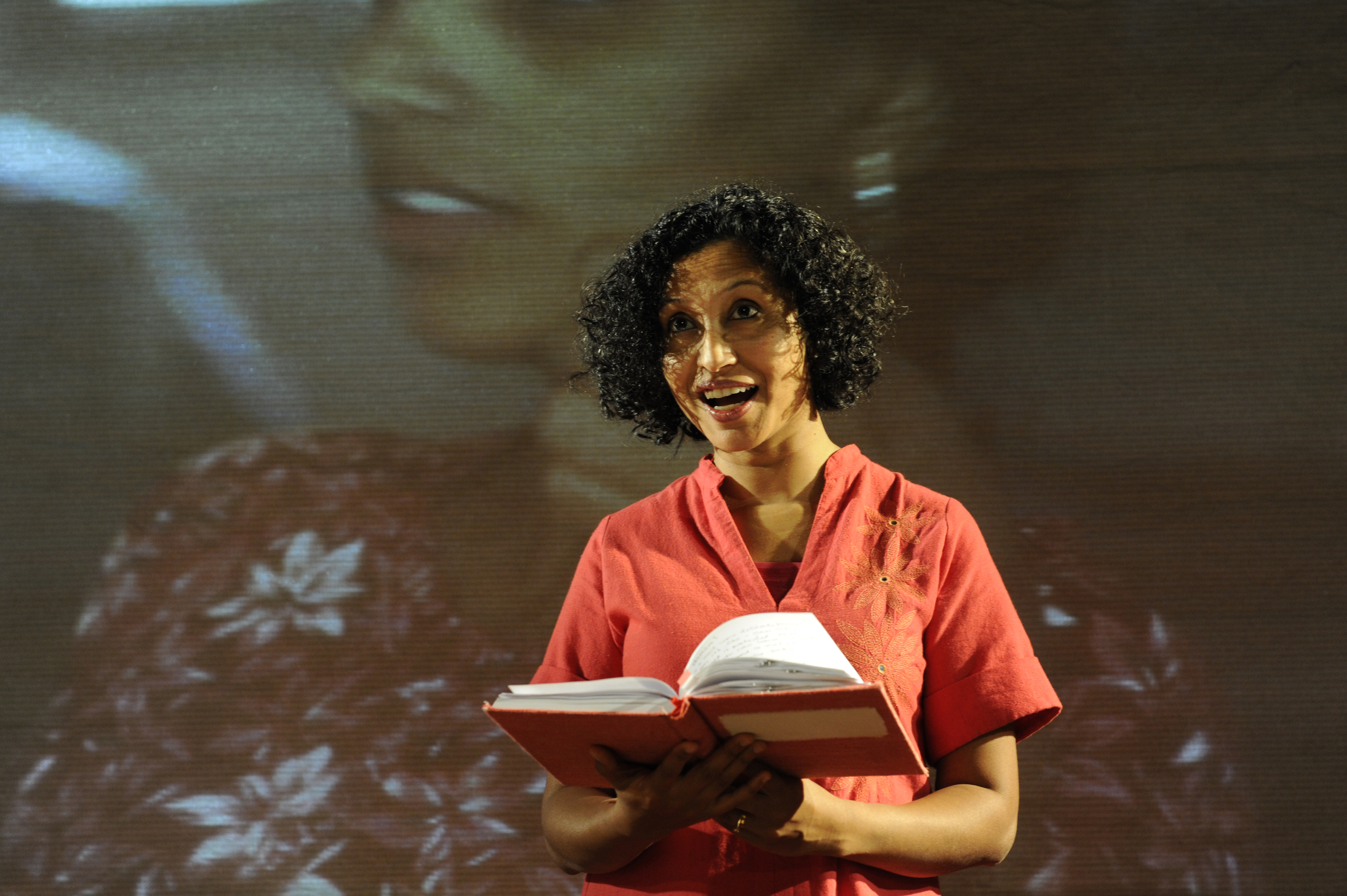 Commercial surrogacy is a rapidly growing industry in India. Poor women can gain up to five years of salary in nine months. They do it to improve their lives, to gain independence and to be able to send their children to school. At the same time couples from all over the world have their dream of parenthood fulfilled. Is it a win-win situation? Global capitalism? Exploitation of the poor women of the Third World?
MADE IN INDIA invites you on a fascinating journey to Doctor Patels babyfarm in the Indian town Anand. You get to know two Indian surrogate mothers, one client and the owner of the clinic, Dr. Patel. You follow them from the 'ordering' of a child, to the fertilization, pregnancy and the birth with a caesarean. As a part of the performance Amrita will answer questions from the audience.
The performance started off as a co-production between Riksteatern (SE), Odense Teater (DK) and Global Stories. It opened in Stockholm in 2012 and toured all over Sweden. In 2013 and 2014 the performance played at several venues in Denmark. In 2015 Made in India went through a last transformation to become a performance lecture. It premiered at the University of Copenhagen and has since been invited as guest performance on several occations in several countries:
The UN Women Deliver Conference, Copenhagen, May 2016
The Contemporary Ethnography Across disciplines Conference, Cape Town, November 2016
The Theatre Art Admin Collective, Cape Town, November 2016
The Delle Scene Donne festival, Venice, March 2017
The Midwifery and Birth Conference, Cape Town, March 2017
In the new performance lecture sociologist Amrita Pande is the sole performer in the aesthetic interpretation of her research on surrogacy. It is suitable for international touring, e.g. to be played at small venues and festivals. It is also well suited for academic contexts, for instance within sociological conferences, to use it as an example of science and art enriching each other.
Watch the TRAILER of the touring version here and find PRACTICAL INFORMATION here.
Research and performer: Amrita Pande
Idea and staging: Ditte Maria Bjerg
Stage Design: Filippa Berglund
Video: Miriam Nielsen
Production Manager: Mette Hornbek Hansen
————–—————————————————————————————————-
PAST REVIEWS
"An internationally significant performance that will hopefully travel around the world"
Det at lægge krop til en rugemor
– Anne Middelboe Christensen, Dagbladet Information
"There are no admonishments, no self righteous points of views. This is debate in a totally new way, and it's wonderful"
* * * * stjerner
– Marianne Koch, Fyns Amts Avis
"..a sharp and entertaining analysis of global capitalism and extreme economic inequality"
– Svenska Dagbladet
"Amrita Pande glows with life and commitment as the authentic centre of the performance"
Fascinerende forestilling sætter spot på indiske babyfarme
– Monna Dithmer, Politiken
"Excellent. This is whole new way of teaching, and you should invite all high school classes to theatre to watch this"
– Simon Andersen, Smagsdommerne
"Made in India speaks to your mind and your heart"
* * * * stjerner
Made in India
– Anne Liisberg, Teater 1
* * * * * stjerner
Livmoder til salg
– Rikke Hellerup Madsen, Kultunaut
PRINTED PRESS – INTERVIEWS AND ARTICLES
Information 11. nov. 2013
"At skaffe og skaffe sig af med børn i den globale ulighed".
Trippelinterview with Ditte Maria Bjerg, MajaLee Langvad and Kristina Nya Glaffey