MADE IN INDIA – A PERFORMANCE LECTURE (2015)

Read an article by Amrita Pande and Ditte Maria Bjerg on the creation of MADE IN INDIA here.
Press photos
Photo 1: Amrita Pande (Photo: Morten Kjærgaard), Photo 2: Amrita Pande doing research (Photo: Miriam Nielsen), Photo 3: Surrogate mother with embroidery (Photo: Miriam Nielsen)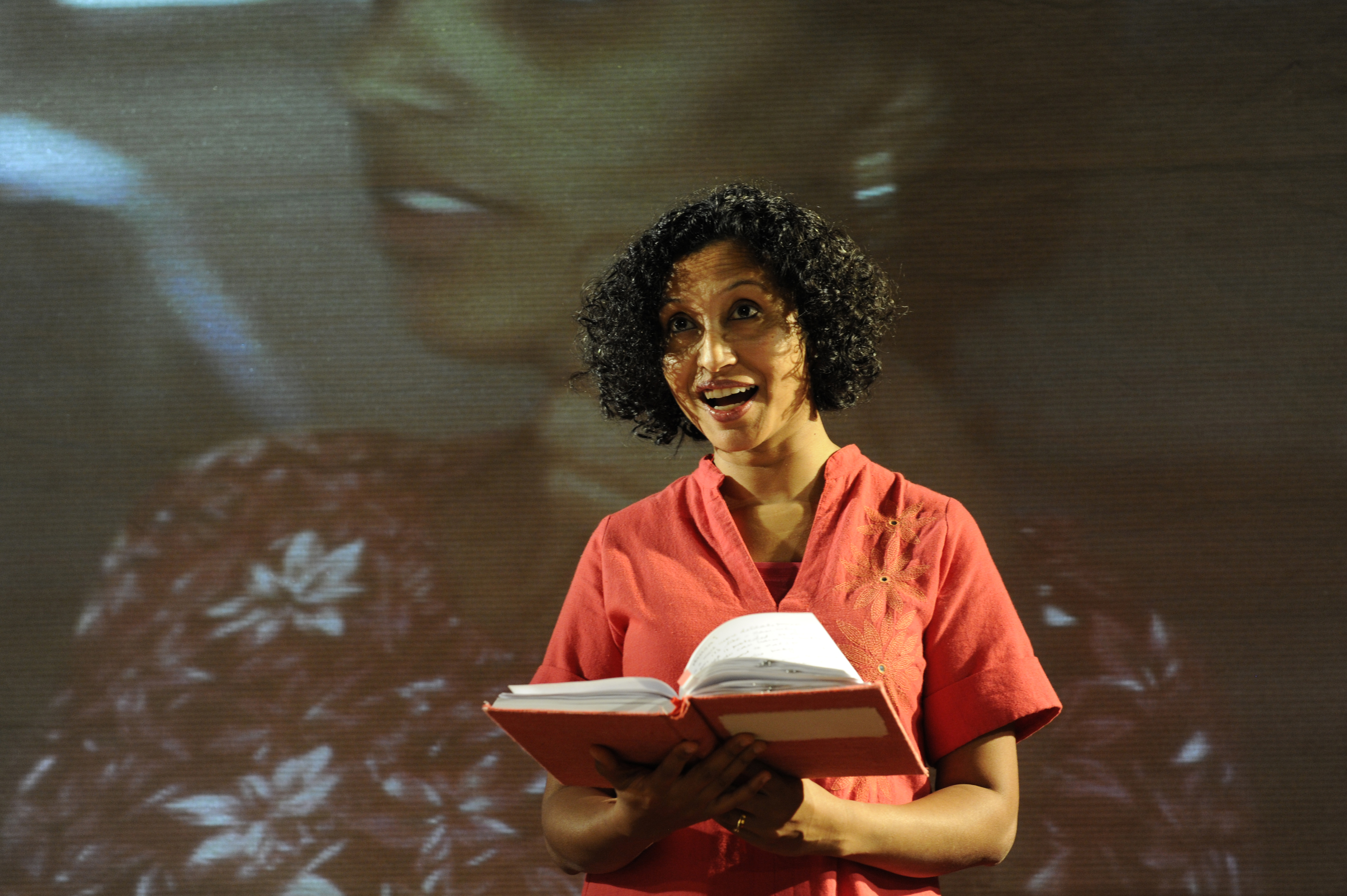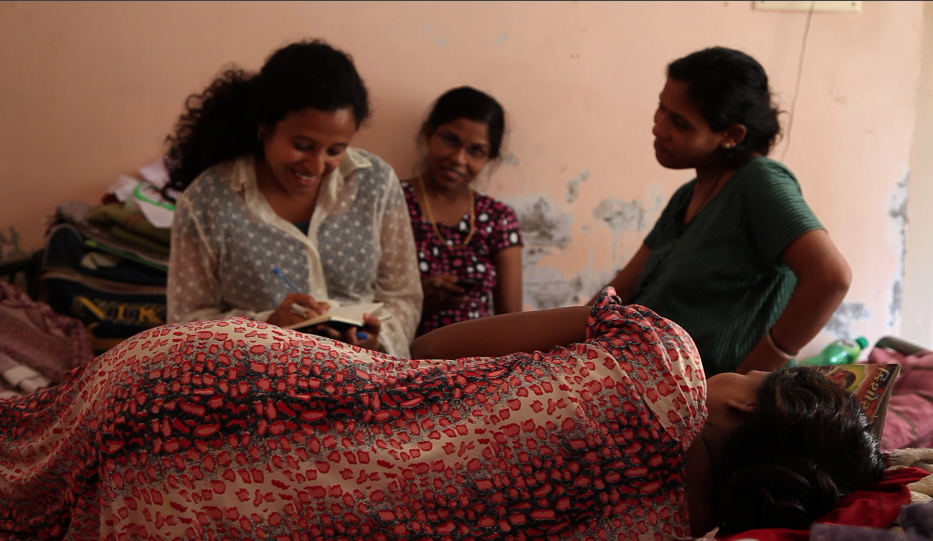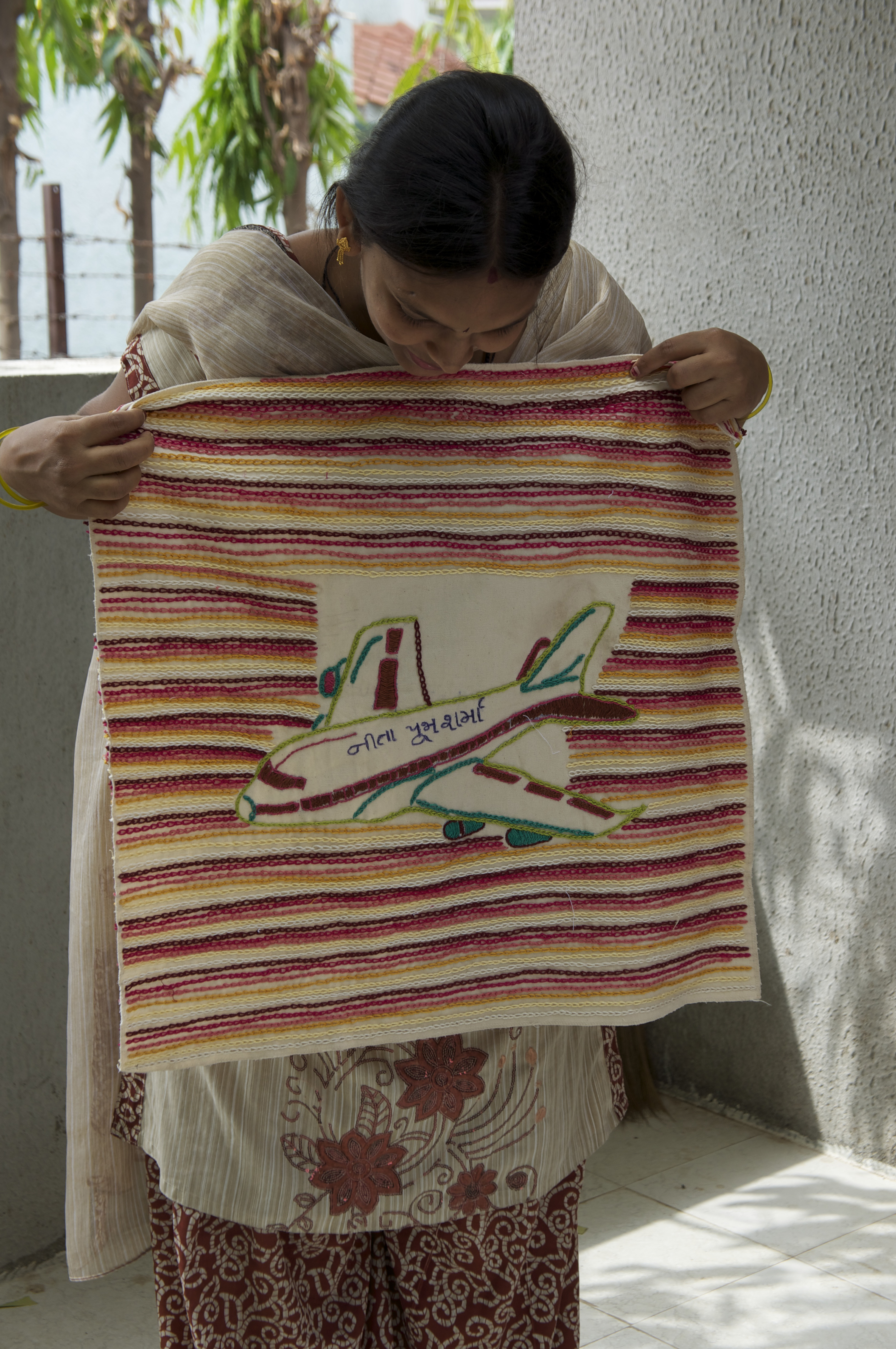 Photo 4 to 6: Amrita Pande performing (Photos: Filippa Berglund)
Photo 7: Amrita Pande performing (Photo: Filippa Berglund)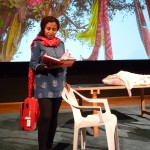 CREDITS
Research and performer: Amrita Pande
Idea and staging: Ditte Maria Bjerg
Stage design: Filippa Berglund
Video: Miriam Nielsen
Production Manager: Mette Hornbek Hansen
Funded by the Committee for Performing Arts Project Funding (Denmark)
———————————————————————————————————————————
MADE IN INDIA – NOTES FROM A BABYFARM (2014)
Press photos
Photo 4: Surrogate mother (Photo: Miriam Nielsen), Photo 5: Amrita Pande and Nanna Bøttcher (Photo: Morten Kjærgaard), Photo 6: Amrita Pande and Nanna Bøttcher (Photo: Morten Kjærgaard)

CREDITS:
On Stage: Amrita Pande, Nanna Bøttcher
Idea and Staging: Ditte Maria Bjerg
Stage: Filippa Berglund
Dramaturgy: Sandra Theresa Buch, Tanja Diers
Video: Miriam Nielsen
Co-production between Riksteatern (SE), Odense Teater (DK) og Global Stories
Supported by The Danish Art Council, Copenhagen Culture Administration, Nordic Culture Point, Public Art Agency Sweden, Maecenia Stiftung & Cornelia Goethe Centrum, CKU
——————————————————-
Pressemeddelelse: MADE IN INDIA – NOTES FROM A BABYFARM (2013+2014)
——————————————————-
REVIEWS:
"I thought it was excellent. I've never seen documentary theatre where a real PhD and sociologist is on a stage with an actress and perform the research of a subject as urgent as this. It's a whole new way of teaching, and all high school classes ought to go to theatre to watch this"
– Simon Andersen, DR2 Smagsdommerne, Danish National Television
—————————–
"As stage director Ditte Maria Bjerg continuously identifies global paradoxes that we all find it difficult to relate to. With Made in India she has created an internationally significant performance that hopefully will travel all over the world"
– Anne Middelboe Christensen, Information, National printed press
—————————–
"It is the huge strength of the performance that it manages to bring into focus the question of how far we are willing to go. This doesn't only apply to the state authorities who stick their heads in the sand when it comes to the transnational surrogate industry as a black, unregulated market. It also applies to the Indian surrogate enterprises and especially to the Western clients and the rest of us who has the energy and obligation to scrutinize our biggest wish: How far are we willing to go when it comes to human production?"
– Monna Dithmer, Politiken, National printed press
——————————
"The topic is complex and the form is different, but it's a fine match that raises questions and calls for action. A good appeal to our common global responsibility and a reminder that theatre is not merely for our pleasure"
– Anne Liisberg, Teater 1, Theatre Magazine
——————————-
What can we use this documentary theatre for? Well, we can use it to learn and discuss. And Made in India is by far the most interesting way to present a topic that I've seen in a very long time. Have you ever seen a sociologist on stage with an actor performing a lecture? You pretty sure haven't. It's definitely an experiment that could have been a disaster. But that's not at all the case. In the staging of Ditte Maria Bjerg the ethical dilemmas and the facetted stories are unfolded in a way that makes us, the audiences, lap it all up and take the stories and the debate with us as we leave the theatre"
– Karina Dahl, En tur I kultuland, blog
———————————
There are no admonishments, no self-righteous points of views. On the contrary a very sensitive subject is addressed in a very matter-of-fact kind of way, but at the same time in a delicate way (…) Made in India is a new kind of debate theatre, the kind that wisely brings the documentary into the performance. It's wonderful"
– Marianne Koch, Fyns Amts Avis
————————————
Made in India ended in a standing ovation…. Strong and balanced on a difficult subject. A sensitive topic.
-Catherine Hörlin – Feminist perspectives website, 10th October 2012
The performance is exemplary because it avoids making tough questions too easy. Amrita Pande has approached the position of both the surrogate mothers and childless couples with respect. We hear interviews and see video clips, and she also shows beautiful embroidery made by women with motifs about how they perceive their situation.
-Inger Alestig, DAGEN, 17th October 2012
Amrita Pande, with strong stage presence, lived in the clinic she documented from, and this fact-based theatre flows with the help of video, still image video, text readings and the power of the audience for reflection and questions…
A difficult and heavy topic presented and nuanced with the help of smart and playful directions.
We are almost in India with the help of sound, film, fragrances and pieces of cloth…Facts are given but the evaluation we do ourselves! Questions are asked, questions without easy answers. This affects us!
-Tina Persson, Smålandsposten,  22th October 2012
Both entertaining and thought-provoking!
"Made in India – Notes from a baby farm" is both the result of collaboration between people and countries, and a sharp analysis of global capitalism and extreme economic inequality. Political phrases are not directly used, yet they emerge as in neon. We are shown how people are perceived as services and commodities, which we know as if on an assembly line: Everyone is replaceable. Dr. Patel or the couples, who want their genes to be passed on, are not portrayed as morally evil. It's all about supply and demand, the foundation of market economics. It is even possible to see the entire transaction as a "win-win" situation: The couple acquires a child resembling themselves, and the Indian woman gets a new and better life .… a performance that shocks … director Ditte Maria Bjerg and the actors are not concentrating on feelings or indignation. Nevertheless the performance is entertaining, not least when Amrita Pande in the end answers questions in the role of Dr. Patel, Puja, the surrogate mother and herself.
-Sara Granath, Svenska Dagbladet, 14th October 2012
Play, reportage, documentary or lecture. In "Made in India – Notes from a baby farm" it is difficult to draw the boundaries… it is both an enlightening and touching story about surrogacy, and the price of our longing for children.
… A creative and fun performance of collages. Despite the complexity of the subject, the performance is without any signs of the more serious types of documentary telling stories from the outside. Actresses Mia Ray and Sophie Louise Lauring accompany us through the evening. Charmingly they begin with portraying everyone's desire for children, including direct offers to the male parts of the audience.
A noisy, messy, colourful India is presented on the screen in the background, but is also reflected on the stage; soon smelling of Indian curry and the movement patterns from the movie are imitated and varied.
The performance is constantly in contact with the Indian reality, especially when the surrogate mothers' embroideries are hung back and forth across the room.
Amitra Pande is both witty and reflective. Following the break she cleverly turns the lecture into a stand-up comedy, in turn alternating between Dr. Patel from the fertility clinic, surrogate mother Puja and herself, while she responds to questions from the audience. Talented she finds the right tone and responses. With Pande as the core "Made in India" becomes a successful union of investigative journalism, research and performing arts.
-Anna Hedelius, Nummer.se – Teaternyheder på nätet, 12th October 2012